Too much expectation leads to disaster and someone who is following the Cricket World Cup 2019 can relate this with England's journey so far. The hosts who were pipped as favourites before the World Cup commenced now look baffled and nervous as their performance has landed them in a tight spot as the race to semi-final intensifies. In cricket, a home World Cup is a double-edged sword and serves as both an opportunity and a threat. The Englishmen are having sleepless nights realizing that they have slipped their dream to win their maiden 50 over World Cup or rather rely on other teams to crossover the group stage.
The current England squad is undoubtedly the best one-day side they have produced in the last 40 years. Since their dreadful group stage exit in the 2015 World Cup, England have grown in stature, confidence and climbed the No.1 spot in rankings. On paper, the team looked balanced and going according to the stats, until their loss against Australia, England hadn't lost successive one-day internationals since January 2017. Despite bossing the 50 over format for the past 4 years they have lost three group stage matches towards the business end at the global stage where it mattered the most. So what has made the England team land up in such a bleak position?
Weak Bowling Line-up.
England registered an easy win against South Africa in the opening match of the tournament, not much of their batting, bowling and fielding were tested by the Proteas. But their main challenge was against Pakistan who they had whitewashed in a 5 match series before the World Cup began. Pakistani batsmen slammed almost every bowler at Trent Bridge and put up a staggering total of 348 runs. Their key opening bowler Woakes was hit for 71 runs in 8 overs with an economy of 8.88 and bowling from the other end Jofra Archer who was believed to be the X-factor of this English team also conceded 79 runs from his 10 over spell at an economy rate of 7.90. Among the other major bowlers, Ben Stokes and Adil Rashid went wicketless and were hit for 43 runs each which saw them not completing their 10-over quota. The only stand out bowler in that match was Moeen Ali who took 3 wickets for 50 runs. But this match exposed England's fragile bowling line up to the other top teams.
Following their first loss in the tournament, they faced Bangladesh in the next match. They put out a handy total of 386 with a spectacular 153 runs from Jason Roy. But again their bowling was tested when Shakib played a blistering inning smacking the English bowlers all around the field and their opening seamer Chris Woakes was again not given a chance to complete his spell of 10 overs after he conceded 67 runs from 8 overs at an economy rate of 8.38. However, they managed well against West Indies and Afghanistan but the biggest upset of this CWC was when Sri Lanka defeated the hosts on a tricky pitch despite having a mere total at the board. This time their one-dimensional batting was exposed and the consecutive loss against Australia showed their struggle against the top-tier teams. We saw how the bowlers bowled with inconsistent length and all of England's seamers struggled after a strong opening burst from Finch and Warner. Between overs 10 and 25, they bowled neither full nor short. It was all too easy for both Aaron Finch and David Warner to score and the runs kept coming consistently.
One- dimensional Batting.
Their batting has only been effective against the underdog teams. Their top order has struggled and they never found a way to score easily on challenging pitches. The middle order has flashed and fell apart when the pitch hasn't been a flat one. Only Ben Stokes has been effective but neither of their last 2 games he found support from the other end which saw the team dismantle on their own home turf. The injury to Jason Roy has also been a massive part in England's batting struggles against Sri Lanka and Australia. With such big names and world-class batting talent, their inability to adapt when faced with a ball misbehaving has been such a big part of their journey between World Cups.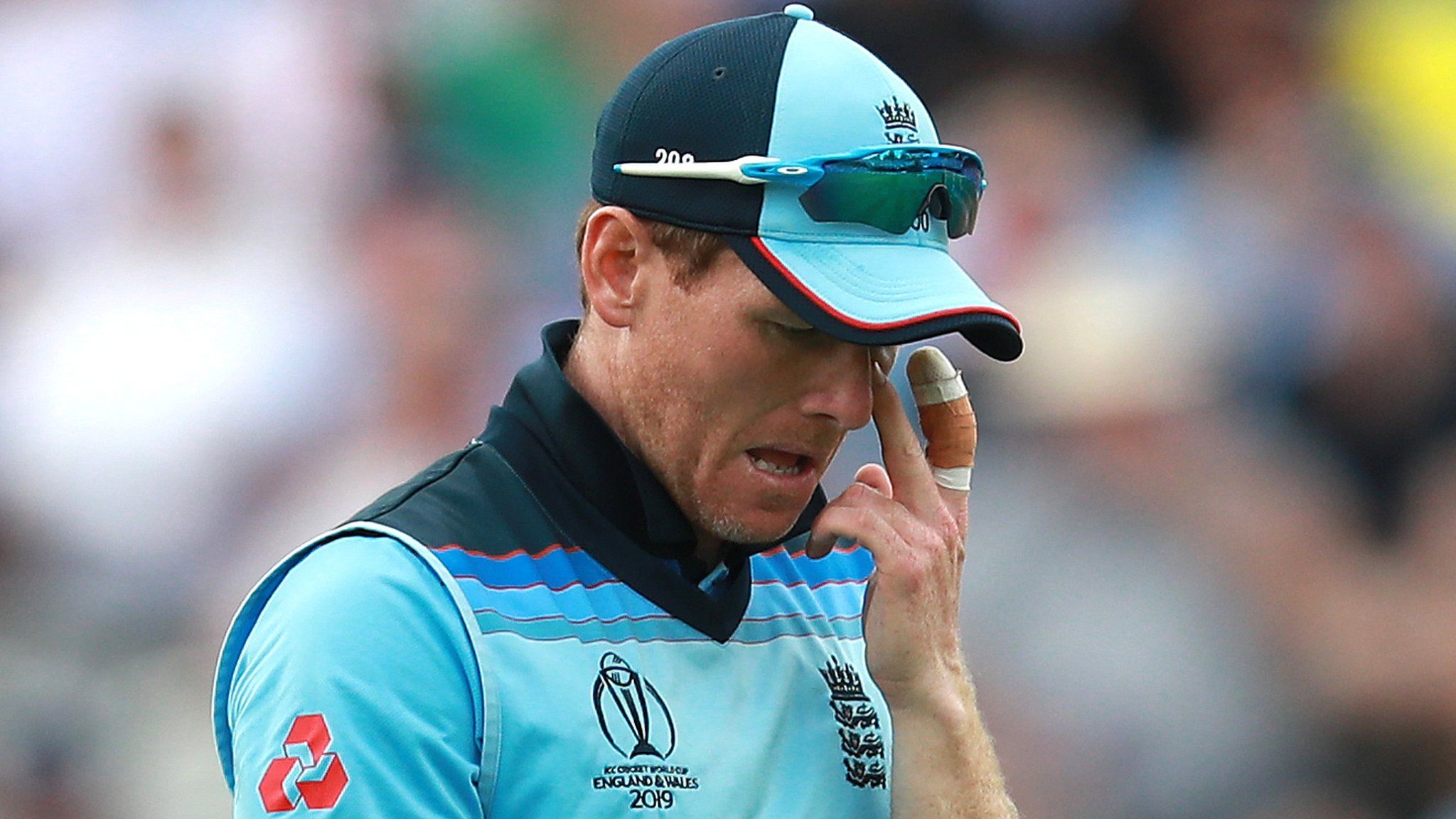 They have also struggled in the field. Drop catches against Pakistan and Australia cost them the match. The players definitely don't look attentive and the vibe clearly doesn't come out from the player's attitude that they have the zeal to lift this coveted trophy. A team that was unbeaten in a home ODI series for 4 long years are now facing a four-way battle with Pakistan, Bangladesh and Sri Lanka for that final spot in the semi-finals. Before we all laugh at England's oddly predictable plight, we must know that their two remaining games are against India and New Zealand who they've not beaten at the World Cup since 1992. So the stakes are high and the destiny is totally in their own hands. Whatever it is, IT will be a win-win situation for all the Indian fans if England gets knocked out early.